So My featured Blogger today is Tracy from A Slice of Smith Life for leaving a comment on last week's feature friday post. You can go back and see she was the first to comment. We are kinda on this homeschooling theme lately for my feature friday bloggers, but that is totally awesome because I think Home Schooling Mom's rock! In this day and age when school can be a scary thing with bullying, its a wonder more moms don't home school, but from what I understand its on the rise, and with today's resources kids are getting a much better home schooling education I think than many who attend tradition school.

So here is a little bit about Tracy and Slice of Smith Life.


"I am a devout Catholic, homeschooling, mother with a loving and supportive husband and 4 blessings from above. I never thought I could start a blog or even have time for one, but I took on the challenge this past summer in June 2010 and started my own blog! I have created my blog from "scratch" without knowing a thing about the blogging world or the blogosphere as it is called. I had a prompting from someone to journal one of my passions...creating and decorating birthday cakes for my 4 children (aka my 4 cupcakes).
My latest cake creation (with my wonderful husband's help) was just this past week for my son's Star Wars birthday party. We made a Millenium Falcon cake and had a blast celebrating his birthday. I often wonder how bloggers come up with the name of their blog. What is their story of why they chose the name they did? Here's how I came up with my title, "A Slice of Smith Life": The title relates to the many decorated cakes I have created and sliced over the past 10 years and my blog also gives my readers a glimpse into the other passions in my life, including Sacred Heart Academy Homeschooling, Cakes, Natural Family Planning, and becoming a Mom Entrepreneur.
I have been homeschooling my cupcakes since 2005 and I am challenged everyday to make our homeschool days more holy, peaceful, fun, and productive. I started homeschooling mostly because I wanted to be able to lay a solid faith foundation for my children and my husband and I thought homeschooling was the best way to do this for our family. I enjoy meeting other homeschool bloggers and sharing ideas with them. This has definitely been a great blessing for me since blogging.
I hope that by sharing some areas in my life that are fun and important to me, it will help all those who visit "A Slice of Smith Life" to be inspired and touched by what they read. Every day I am inspired by others and I have been able to connect with so many wonderful people all over the world ever since I started my blog adventure. I also have won some great giveaways on various blogs :) That's always fun! As I continue to take baby blog steps, I am enjoying this learning process and making the world a smaller place by meeting great bloggers along the way! Sit back, relax, and enjoy a slice...of Smith life!"
I have totally enjoyed meeting Tracy here in the blogging world and she has always stopped by on occasions to say hi. I love her blogging style and her sense of creativity. I don't think I could make a cake like that. I'm a better cook than I am a baker, unless of course its from a box! Ha.
Ok so you all know the routine, leave a nice supportive comment here, and for extra points visit
A Slice of Smith Life
for Extra entries to be featured in the next feature friday!
For more on Feature Fridays, check out our feature Friday Hall of Fame at the top of the page.
And with that I award Tracy this button: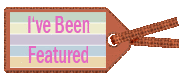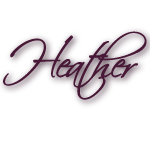 *Please vote for me. Just 1 click!*