Hi All!

I want to introduce to you my guest blogger for today Christina from There's Just One Mommy. This post was actually supposed to go up yesterday but I am still battling sickness and did not get to my computer until the evening. So I am really sorry I dropped the ball and if you came by from "There's Just One Mommy" looking for Christina's post, its all my fault. So without further ado lets learn more about Christina's Spring Cleaning Adventures:


If you are one of my usual readers, you know I kind of stumbled into spring cleaning this year when my plans to take the kids out for the day didn't work out very well. Over the past couple days I've come to realize there is a reason "spring" cleaning only happens once a year, and it's not just because it is hard to do with little ones around. No, spring cleaning only happens once a year because it takes that long to forget how dangerous the cleaning can be!
Over the past week or so I have had several dangerous encounters while spring cleaning. How about dusting? It sounds harmless enough; I dust the usual stuff (end tables, t.v. stand, etc.) every week. But how about climbing up to dust the picture frames and trinkets on top of the kitchen cabinets? Now you've thrown in a whole new layer, and several feet which you can fall.

And when I decided to use the furniture polish to clean the cabinet fronts and dust the ceiling fan, the laminate floor in the kitchen became a hazard to anyone walking in socks. A week has passed and I still find myself slipping every time I walk under the fan (even after trying to use another cleaner to wipe up the furniture polish residue). The dog isn't too thrilled with my cleaning job, either, whining when she walks into the kitchen to get one of her toys. At least this year I didn't have the brilliant idea of using the same dusting rag to wipe down our wood steps. You should have seen that situation last year! Maybe I should just give up trying to rid these out of view areas of dust, for the safety of my family, of course.
After turning the kitchen into a hazard zone, I continued my cleaning endeavors by washing the curtains. I try to vacuum the tops periodically with the vacuum attachments, but I figured after five years in our house they probably could use a run through the laundry (that and my mom made me feel like I was a super-slacker when she realized they hadn't been washed since we first put them up). This time around I didn't shrink any curtains (I have shrunk, I mean washed, curtains before, and by the way, if they say dry clean only, believe them!) The danger this time was in putting the curtains up. We have double wide windows, and as I tried to balance the curtain rod full of curtains I forgot to look where I was stepping. Boom! Right off the set of chairs I was standing on to hang the curtains. I thanked my lucky stars I didn't break anything, and then I noticed the curtain rod was now bent in half. A little duct tape to give the now weakened area more support, and I was good to go for a second attempt. All of that work and do you think anyone has even noticed?
Finally, there's the mattress. It hadn't been flipped for a while, and I was on a roll, so when I changed the sheets on the bed this week, I thought I'd go ahead and do that, too. Let me point out that I am 5'1'' and we have a king sized bed. I know, I know, I should have waited for my husband to help me, but his hours have been pretty crazy lately and I just wanted to get it done. Getting the mattress off the bed wasn't hard, really. It was getting out from between the mattress and my husband's armoire that made for a sitcom. I was literally pinned to the armoire's mirror. In my mind I ran through the people whose numbers I have memorized that I could possibly call to help me, that is
if
I could get my daughter to bring me the cordless phone… Thankfully sitting there thinking of how anyone who came to help would just laugh at me gave me the adrenaline I needed to wiggle out of my situation and even push the mattress back onto the bed frame. Let's see them laugh now! (Okay, even I am laughing at that one…)
I'm far from being finished with what I've put on my lengthy list of things to clean/straighten up this spring; after all I have yet to tackle organizing the pantry or the basement. I wonder what dangers I will face there? No doubt about it, cleaning is not for the weak, and I'm beginning to understand why it's usually left to those of us crazy enough to attempt it.
Please stop by
There's Just One Mommy
and say hi to Christina!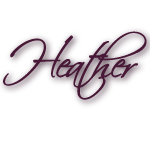 If you like my blog, please vote for me: