A few weeks ago I finally got together with a friend. My friend Tiffany, whom I have known since our middle school teen days when she lived three houses away from me and we'd spend the summer swimming in her pool and eating top ramen.
Tiff and my husband share the same birthday. Last year this time, things just got in the way and I was supposed to take her out for sushi for her birthday and we both got busy. This year I was determined not to let that happen, and this girl with a seven week old baby needed to get out of the house! But Baby B had to come with me because I am nursing. It was nice to just have a person to talk to that isn't a toddler and someone who shared the same love for coffee and sushi that I do. The hubs likes neither. ;)
Anyway, the day started off rough for Tiff. She broke her cell phone charger and couldn't call me, so the only way she could communicate with me was thru Facebook. Then as we are getting ready to go, she IM's me on Facebook and tells me her truck won't start. Now the last time I jumped someone's vehicle was..hmm college I think...maybe even high school. I can't remember when it was, but I know it was in a parking lot and I couldn't really remember how. (SHUT UP, ITS NOT SOMETHING I DO EVERY DAY!) I was determined not to let Tiff feel down about the day or to cancel plans so I headed over there with my brother in law's jumper cables and the hubs walked me thru the basics of jumping a vehicle. It was snowing and Baby B was screaming in the back seat so I was glad I had pumped some milk for Tiffany to feed him with so I could jump her truck. Then we were off to grab Starbucks and sushi at Teppan Fuji's. We had no idea that they probably closed that Saturday just as we were getting there. We were the only ones in the restaurant the entire time. When we left their "open" sign was turned off. We kinda felt bad about it not knowing their hours. But when you live in a small town, things are never open all the time.
At anyrate, sitting there chatting with Tiffany about how much our lives had changed and about motherhood, and for her about being a school teacher was what I think we both needed at the time. We started talking about our Pinterest addiction and decided after sushi we were going to hit the super market for ingredients to make a fun crock pot special.
It was a good day and I wish I had more girl days more often, like go and get my nails done or hit the discount section at Ross like I've done in the past with some gal pals in Phoenix. Jess and Alesha if you ever read my blog posts, I miss you guys! I miss just jumping in the car and meeting up with you guys, grabbing lunch, talking and shopping. Lib! I miss going over to your house and eating your great food and chilling out on the patio, or staying up late talking. I miss that sooo much!! I miss you guys! :) It might be time to make a trip to the valley soon. :)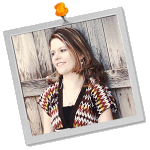 Author:
Heather
Wife
,
Mother
of Two Boys,
Coffee Addict
,
Pinterest obsessed
, an
aspiring writer
balancing every day life of
raising a family
and
blogging
about it. If you like what you just read, consider casting a
one click vote.
Connect: Twitter | Facebook | Instagram | Pinterest | LinkedIn | GooglePlus |Newsletter | Emailed Posts