This is not my first time trying out a
Pinterest
recipe! I swear I can be on that site all day!
For game day I thought I'd try something simple but oh so good. In addition to the salsa my husband either loves or hates due to how spicy I make it, I thought we'd continue the southwestern style theme. When you live in a small town as I do, (its small in essence as the nearest In n Out is 200 miles away and so is the nearest TGI Fridays) my husband and I will travel 200 miles for a great steak or burger. So when our town finally got a Chipotles, I was stoked! But it also made me wonder what ingredient makes it a $6 burrito?
Well when I saw this recipe for Santa Fe Chicken on Pinterest it totally reminded me of a Chipotle burrito, minus the burrito. And to be honest it tastes pretty darn close.
All I did was take this recipe, that Nikki from "
Chef in Training
" got from
skinnytaste.com
and I added tortillas, sour cream, cheese and avacados and it tasted amazing.
This is the original recipe:
Crock Pot Santa Fe Chicken
(Weight Watcher Recipe)
Servings: 8 servings
Size: 1 cup
Ingredients:
24 oz (1 1/2) lbs chicken breast
14.4 oz can diced tomatoes with mild green chilies
15 oz can black beans
8 oz frozen corn
1/4 cup chopped fresh cilantro
14.4 oz can fat free chicken broth
3 scallions, chopped
1 tsp garlic powder
1 tsp onion powder
1 tsp cumin
1 tsp cayenne pepper (to taste)
salt to taste
Combine:
chicken broth, beans, corn, tomatoes, cilantro, scallions, garlic powder, onion powder, cumin, cayenne pepper and salt in the crock pot.
Then season the chicken breast with salt and lay on top. Cook on low for 10 hours or on high for 6 hours. For us the chicken was fully cooked after 5 hours. If you are making this recipe and coming home from work after its been cooking all day, take the chicken a half hour before serving and pull it a part or shred it and add it back to the crock pot to continue cooking. If you will be monitoring your crock pot all day, you can start shredding your chicken in the crock pot as it falls apart while cooking.
Now to Chipotle-"ize" it:
Add tortillas, sour cream, shredded cheddarjack cheese and cubed avocado:
Wrap it up and eat: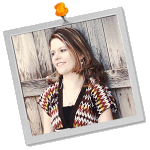 Author:
Heather
Wife
,
Mother
of Two Boys,
Coffee Addict
,
Pinterest obsessed
, an
aspiring writer
balancing every day life of
raising a family
and
blogging
about it. If you like what you just read, consider casting a
one click vote.
Connect: Twitter | Facebook | Instagram | Pinterest | LinkedIn | GooglePlus |Newsletter | Emailed Posts