Wednesday was an amazing day for us, my husband got some amazing news at work and I just happened to take pictures of my little ones that day. So I thought I'd scrapbook it. I'm absolutely loving "scrap-pad" on my ipad. The options are endless for making cute digital scrapbook pages. As you can see, I've been having fun with that!


Then Thursday I took J to story time at the library where he met up with one of his buddies from when he was a baby. These two have been buds since big J was 12 weeks old. They were playing in the library's play area right after story time and big J was showing little J the love he has for the play kitchen.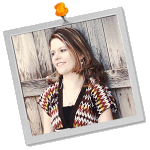 Author:
Heather
Wife
,
Mother
of Two Boys,
Coffee Addict
,
Pinterest obsessed
, an
aspiring writer
balancing every day life of
raising a family
and
blogging
about it. If you like what you just read, consider casting a
one click vote.
Connect: Twitter | Facebook | Instagram | Pinterest | LinkedIn | GooglePlus |Newsletter | Emailed Posts