On Music Mondays you will find that I listen to a variety of music. I listen to everything from punk rock, to Christian Radio, to Country, to Classical...basically if the lyrics and sound is amazing, I'm in. I love music! So today its country, and a long time favorite of mine is Alan Jackson's song "Remember When" its often made me cry, think of my life and feel happy about the life I've lived. Its just a very touching song, and I want to share it with you.




What song is it?



Lyrics:

"Remember When"

Remember when I was young and so were you
and time stood still and love was all we knew
You were the first, so was I
We made love and then you cried
Remember when

Remember when we vowed the vows
and walked the walk
Gave our hearts, made the start, it was hard
We lived and learned, life threw curves
There was joy, there was hurt
Remember when

Remember when old ones died and new were born
And life was changed, disassembled, rearranged
We came together, fell apart
And broke each other's hearts
Remember when

Remember when the sound of little feet
was the music
We danced to week to week
Brought back the love, we found trust
Vowed we'd never give it up
Remember when

Remember when thirty seemed so old
Now lookn' back it's just a steppin' stone
To where we are,
Where we've been
Said we'd do it all again
Remember when
Remember when we said when we turned gray
When the children grow up and move away
We won't be sad, we'll be glad
For all the life we've had
And we'll remember when

***

Other music that is a must on my playlist:




What's on your Spotify Playlist or what are you listening to on Itunes or Pandora these days? Link it up or comment below:
Every Monday!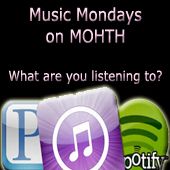 Get the code for your own post:
get the InLinkz code
---

Author
: Heather
Wife, Mother of Two Boys, Coffee Addict, Pinterest obsessed, an aspiring writer balancing every day life of raising a family and blogging about it.
---