On Music Mondays you will find that I listen to a variety of music. I listen to everything from punk rock, to Christian Radio, to Country, to Classical...basically if the lyrics and sound is amazing, I'm in. I love music! I have internalized music my whole life. They've marked memorable moments in my life.


Now I've had trouble getting people to get involved with this meme. But I'm not giving up on it so easily. For those of you who have not heard of Spotify, its like itunes except that you don't have to pay to download the songs you love. You simply listen to it thru spotify on your desk top or laptop computer. I think its the next best thing to sliced bread. If you decided that you really want to listen to a song on your portable device, Spotify sends the song to your iTunes playlist for you to download later! Spotify comes with no hidden spam, malware or anything like that. You can use Spotify on your iPad, iPod or smartphone, but you do have to pay for it. Thats why I enjoy the free version on my laptop. Also if you love love a song, you can easily right click, grab the embed code for the song and share it like I have in this post! Just like in iTunes, you can create playlists and browse music and listen to the full track without having to pay for it, or listen to the same song over and over again without having to pay! Its my new favorite thing next to Pinterest!



So what is today's song?
"The Miracle of Snow" by The Trans Siberian Orchestra





LYRICS:

"The Miracle of Snow"

No Lyrics...just enjoy the beautiful sound of the orchestra!



Other music that is a must on my playlist:




What's on your Spotify Playlist or what are you listening to on Itunes or Pandora these days? Link it up or comment below:



Every Monday!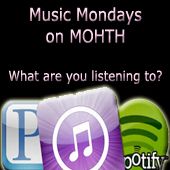 *Come back and share til Wednesday! Linky is open til Midnight Wednesday! :)*
Get the code for your own post:
get the InLinkz code
---

Author
: Heather
Wife, Mother of Two Boys, Coffee Addict, Pinterest obsessed, an aspiring writer balancing every day life of raising a family and blogging about it.
---