On Music Mondays you will find that I listen to a variety of music. I listen to everything from punk rock, to Christian Radio, to Country, to Classical...basically if the lyrics and sound is amazing, I'm in. I love music! I have internalized music my whole life. They've marked memorable moments in my life.



So what is today's song?
"Call Me Maybe "
By Carly Rae Jepsen


The only thing to say is that its a guilty pleasure. LOL


If you don't have spotify, listen on Youtube and read the lyrics:


I just think its a fun upbeat song and I'm sure most teeny boppers listen to this. But its kinda just a cute pick me up that sometimes I like to laugh at and make a little fun of.



Other music that is a must on my playlist:



What's on your Spotify Playlist or what are you listening to on Itunes or Pandora these days? Link it up or comment below:




Every Monday!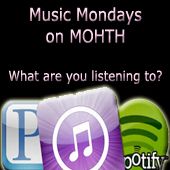 *Come back and share til Wednesday! Linky is open til Midnight Wednesday! :)*
Get the code for your own post:
get the InLinkz code
---

Author: Heather
Wife, Mother of Two Boys, Coffee Addict, Pinterest obsessed, an aspiring writer balancing every day life of raising a family and blogging about it.





---