Back a few years ago, I received a lovely long rectangle box at my front steps. When I opened the box, the most fragrant flowers with a beautiful vase was inside along with a box of chocolates and a note from my mother, with whom I had just started communicating with again. Its a long story, but the sentiments behind the flowers sent to me from her from over 200 miles away were well accepted by me and my then 18 month old.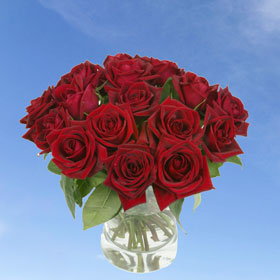 How could someone 200 miles away send flowers right? Well its easy these days, but lets Romanticize it for a minute and think about Valentines day. Think about how your gal's face would light up if she saw 8 dozen GlobalRose.com medium red roses strategically placed around your bedroom, with candles lit everywhere and a bubble bath drawn? In the kitchen, a hot meal is waiting to be enjoyed by candle light, and enjoyed by you and just her. The kids are off at grandma's house for the evening....do you see where this is going? Do you see how this is not only just a wonderful surprise for your wife/girlfriend/fiance, but also marks an amazingly romantic evening for you as well? What makes her happy makes you happy right?


Men, let me tell you the secret to a woman's heart. You will totally win her over all over again, if
A. She doesn't have to cook.
B. You let her feel pampered
C. You show her just how special she is
So if you are looking to do something amazing for your girl, this is my advice. A simple night in, where just the two of you can lounge around together, eat great food and watch a movie, might just lead to that one thing you want most...intimacy (wink wink).
You know that pin that's been floating around about how hot men look while doing the dishes, changing a diaper or vacuuming! True!! Very very true! If you eliminate some common headaches in your woman's day, show her you love her with a "bajillion" red roses and make sure that woman doesn't have to cook, then you'll have a happy girl on your hands.
P.S. You'll want to get some wine or campaign too! Don't forget the alcohol its a must if you want a frisky night! ;) Yes I said it, and yes I am promoting sex on my blog.
Have fun now!
---

Author: Heather
Wife, Mother of Two Boys, Coffee Addict, Pinterest obsessed, an aspiring writer balancing every day life of raising a family and blogging about it. If you like what you just read, consider casting a
one click vote
;)
---