Last week B fell asleep stuck between the couch cushions. I was sitting on the couch on my laptop, and looked over to see he had fallen asleep this way. I couldn't believe it. J never fell asleep in any place but his bed. I think I had taken a picture of J twice once, when he fell asleep on the stairs on the way to bed. But B, falls asleep everywhere!!
And then I couldn't help but give this picture a caption.
A morning last week. One day I'll love these pics...right now, I kinda want some sunshine.
Right before a winter snowstorm.
Stormy weather comfort food.
J Myster throwing a snowball at me. He goes "Mama, I gonna get you!"
Eating Snowflakes!
First ever experience in the snow. He was so happy to play in it, til his little fingers got cold and I had to take him inside to daddy.
Follow me on
Instagram
, tell me you are following me on Instagram and I will follow back.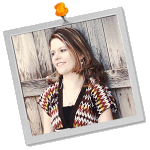 Author:
Heather
Wife
,
Mother
of Two Boys,
Coffee Addict
,
Pinterest obsessed
, an
aspiring writer
balancing every day life of
raising a family
and
blogging
about it. If you like what you just read, consider casting a
one click vote.
Connect: Twitter | Facebook | Instagram | Pinterest | LinkedIn | GooglePlus |Newsletter | Emailed Posts